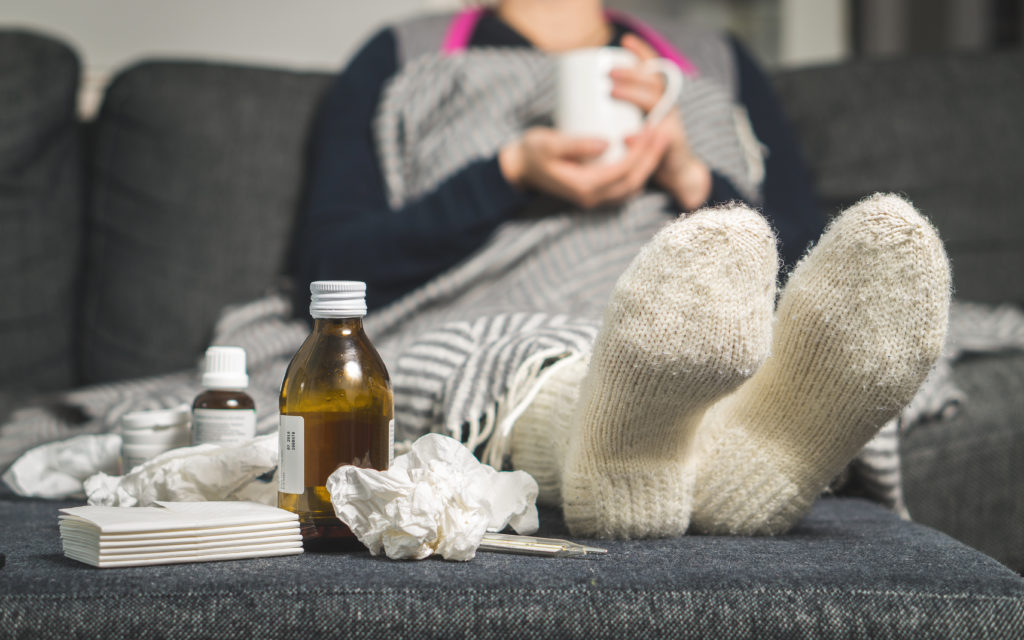 You're all curled up in your misery under a soft blanket, cuddling a steaming mug of something warm while crumpled tissues pile up around you. Every so often, you stumble to the kitchen for another dose of cough syrup or liquid cold medicine. When the aches and pains of winter colds and flu hit, it's hard to care about anything but finding a bit of relief. So, before you get taken down by the latest bug, snag these 3 flu season tips for feeling better without damaging your teeth.
The Sweet but Risky Relief of Sugar
Typically, most cough drops, lozenges and syrups are loaded with sugar. So are liquid cold medicines. Because they're syrupy, they're notorious for clinging to your teeth and promoting tooth decay. Your warm cup of tea may be sweetened with sugar or honey, contributing to the problem. If you have a stomach bug, you may be sipping ginger ale or clear sodas.
 Whenever possible, opt for symptom relief in sugar-free versions or pill form. And take the time to brush or at least rinse out your mouth after drinking sugared drinks, even though you don't feel like it.
Your Teeth Need Hydration, Too
Sales of decongestants soar in the winter because they provide relief from the discomfort of sinus congestion. However, a common side effect of this medication is dry mouth, which can allow excess bacterial growth in your mouth, impacting both gum and tooth health.
When you're sick, the doctor orders plenty of fluids. The dentist's caveat? Keep your mouth moistened with low sugar liquids and rinse or brush as often as you can. Eating can help stimulate saliva production, too, so try to consume some food when you can.
Protect Your Enamel in Winter
Unfortunately, whether Jack Frost just nips at your nose or you find yourself down for the count, the liquids that appeal to us in winter aren't always the healthiest. In addition to the problem of sugar, teas and orange juice – sick-time favorites – can soften or erode tooth enamel. Thankfully,simply drinking through a straw can sidestep some of the impact of acidic or sugary drinks.
Stay Well
The best remedy is, of course, to avoid getting sick. During cold and flu season, reducing sugar intake, increasing hydration, and frequently washing your hands are great steps to take to stay well. But if you do succumb to what's going around, keep your mouth in mind when you're medicating and don't neglect to brush your teeth!
About the Author
 Dr. Joseph Sandberg, DMD, MAGD has been treating patients with preventive care along with restorative, cosmetic, and orthodontic dentistry formore than 30 years. His ongoing desire for excellence was evident in 1984 when he graduated second in his class in dental school and 20 years later when he earned his Mastership in the Academy of General Dentistry (MAGD). Call (856) 988-7773 to find out how that excellence can assist you with your dental concerns.