Dental Implants for Marlton & Voorhees
Secure Tooth Replacement Options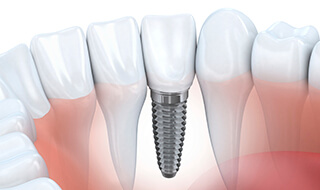 Dental implants are the preferred way to replace your missing teeth. Using your neighboring teeth to anchor tooth replacements like fixed bridges and removable dentures can lead to future problems. Three major advantages of implant dentistry are:
Dental implants are free standing and don't involve altering or stressing adjacent teeth.
Dental implants can't get cavities since they are composed entirely of titanium.
They preserve the jawbone around the dental implant. Bone often shrinks (resorbs) when the damaged tooth is removed but implants preserve the bone.
Some tooth replacement solutions only give you back the visible portion of your teeth — but the supportive root structures of your teeth are necessary to maintain optimal oral health. That's why dental implant supported tooth replacement solutions are far and away the preferred treatment option. Whether you've lost one tooth or a full row of teeth, contact the South Jersey Center for Dental Medicine to schedule your consultation with our experienced implant dentist today. Our Marlton, NJ office welcomes patients from surrounding communities, including Cherry Hill and Voorhees.
Dental Implant Placement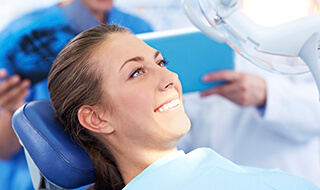 Dental implants are titanium posts that mimic the root structures of missing teeth. Dental implant-retained tooth replacement is a two phase process. The first step of treatment is the surgical placement of dental implant posts below the gum line. The placement process may seem daunting, but the procedure is painless and recovery usually very comfortable and uneventful for most patients.
We typically use a local anesthetic to numb the area where the implant will be placed although Nitrous Oxide (laughing gas) is available for those who are nervous. Our skilled implant dentist then makes an incision in the soft tissue and inserts the implant post. Finally, we place a protective cap over the post. This cover has two purposes — it keeps the treatment site free from food, bacteria, and other debris as the dental implant fuses with the supportive tissues, while also maintaining the shape of the gum tissue so the restoration can be attached.
Once the implant post is in place, patients will need to wait 3-4 months for us to attach their permanent restoration. During this time, the implant post fuses with the gum and jawbone tissue in the process known as osseointegration. After healing has occurred, your new tooth replacement is as sturdy as any other bone in your body.
Implant-Retained Prosthetics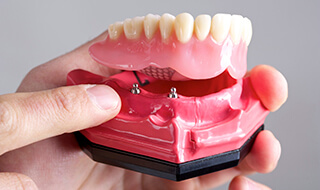 Once the dental implant is placed and has fused with the jawbone, you will return to our office where we'll attach the prosthetic tooth or teeth. One or more dental implant posts can be used to support any number of replacement teeth, from a single dental crown to a full arch denture. Depending on the extent of the tooth loss, our implant dentist may recommend a number of tooth replacement solutions including:
Single tooth: To replace a single tooth, we will place a dental implant post and attach a dental crown.
Multiple teeth: Numerous consecutive and nonconsecutive teeth can be replaced by attaching a permanent bridge or partial denture to dental implant posts.
Full arch: A full denture can be secured with two to four to six implant posts.