Dental Crowns – Marlton, NJ
Protective Caps to Repair & Preserve Your Teeth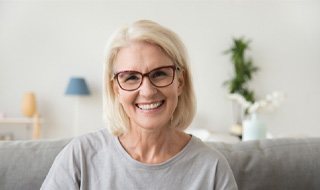 Although your teeth are meant to last your entire life, this isn't always the case for everyone. In most cases, our pearly whites can begin to wear down over the years. Furthermore, they can still be vulnerable to damage or decay. Thankfully, if you're struggling with compromised pearly whites, our team can offer dental crowns in Marlton to repair your smile . These natural-looking protective caps can strengthen and improve the appearance of your teeth, allowing you to enjoy a strong and comfortable grin for much longer. Read on to learn more or give us a call today to schedule your consultation!
Why Choose South Jersey Center for Dental Medicine for Dental Crowns?
Lifelike & Durable Dental Restorations
Highly-Experienced & Dedicated Dentist
Uses BruxZir Zirconia Dental Crown Material
What Is a Dental Crown?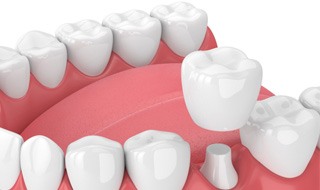 Dental crowns are custom-designed tooth coverings that are cemented over a tooth that's decayed, damaged, or otherwise compromised. Our team can construct your restoration to specifically match your smile, meaning you shouldn't be able to tell the difference between the crown and the rest of your teeth. We utilize BruxZir zirconia to fabricate your restoration(s) for a long-lasting and lifelike appearance. Not only will these caps protect your affected pearly whites, but they can also strengthen their structure and enhance their size, shape, and color. Our team may recommend dental crowns if you're struggling with:
A large area of decay
Chips, cracks, or breaks
A weakened tooth on the verge of breaking
Dark stains or discoloration
The Dental Crown Process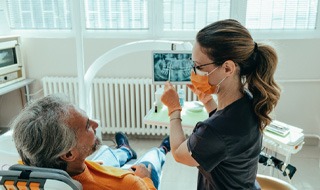 Dental crowns generally involve a multi-step procedure that can take several appointments to complete. Firstly, you'll undergo an initial consultation with our team where we'll evaluate your oral health and discuss your smile goals. We'll also address any underlying/developing issues in your mouth before determining if you're eligible for dental crowns.
If you're a good candidate for these restorations, we can begin your treatment by removing a small amount of enamel from your affected tooth to make room for the crown. We'll take impressions of your smile and send these to a dental lab for fabrication. As you wait for your final restoration to be made, we'll provide you with a provisional one to keep your natural tooth protected.
After we've received your permanent crown, we'll call you back to our office to have it placed. We'll make any minor adjustments if necessary to ensure the cap fits well and is satisfactory. If so, we'll polish your new tooth and you'll be free to enjoy your newly repaired tooth!
The Benefits of Getting a Dental Crown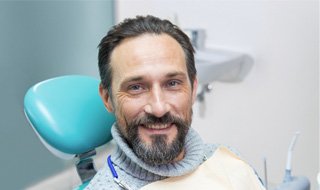 Our dental crowns are constructed out of BruxZir zirconia, allowing you to enjoy several advantages, such as:
Lifelike and durable results
Repair and preserve the compromised tooth
Improve the health and structure of the tooth
Material that can last 10+ years with proper care