Cosmetic Dentist - Marlton, NJ
Creating Beautiful Smiles You're Proud to Share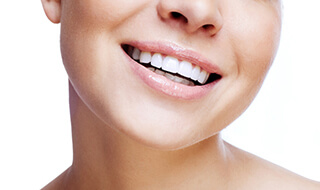 If you're dealing with chipped, stained, broken, or otherwise damaged teeth, cosmetic dentistry services from the South Jersey Center for Dental Medicine can help you transform even the most significant damage into a beautiful and natural-looking smile. Dr. Vidya Kini Kukkundur is your cosmetic dentist in Marlton, NJ with years of experience providing a wide array of cosmetic dentistry services to brighten, straighten, and perfect your smile. Call our dental team to find out more, or to schedule a consultation with our cosmetic dentist. Our Marlton, NJ dental office welcomes patients from Cherry Hill and Voorhees.
Veneers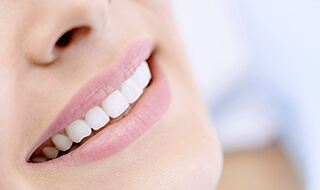 Veneers are thin sheaths of dental grade porcelain that are bonded to the fronts of teeth to conceal smile flaws. Chips, cracks, gaps, or stains can all be covered by veneers. The process is simple, and we complete the placement over the course of two short appointments. During the initial visit, we remove a small amount of surface enamel. Then, we capture bite impressions that are used by the lab to craft the veneers. Finally, we place temporary veneers to protect the prepared teeth. Once we receive the final restorations, patients return to our dental office to exchange the temporaries for the permanent, dazzling solution.
Metal-Free Dental Restorations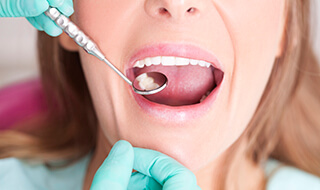 When it comes to repairing damaged teeth, the most cosmetic restorative materials are those that are completely metal free. Every material we offer has its own unique benefits. Gold crowns are the most durable and least likely to wear against opposing teeth, but they are the most noticeable. Porcelain bonded to metal crowns have improved appearance, but the porcelain layer wears away revealing the darker metal over time. Both of these solutions are less than ideal for those patients who suffer from metal sensitivities or allergies.
Fortunately, we offer two cosmetically superior, metal-free restoration solutions: Bruxzir and E-Max. Bruxzir is a zirconia crown. This material allows us to closely match the natural appearance of your teeth. It's a durable solution that also reduces wear to the surrounding teeth. The most cosmetic solution, however, is the all-ceramic, e.Max (dilithium silicate). Even after years of use, these high quality crowns continue to blend seamlessly into the natural smile line. Both materials can be used to repair damaged teeth or to conceal purely cosmetic flaws.
Cosmetic Dental Bonding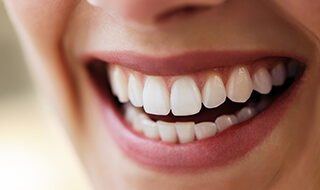 If you have a minimal number of chips, cracks, stains, or gaps, we may be able to perfect your smile in a single appointment with direct bonding. A faster, more affordable alternative to porcelain veneers, direct bonding allows us to cover stains, fill in gaps between teeth, and repair small cracks or chips. The entire process typically takes less than an hour, and can be a very cost effective solution to your cosmetic concerns.
Learn More About Cosmetic Bonding
In-Office & At-Home Teeth Whitening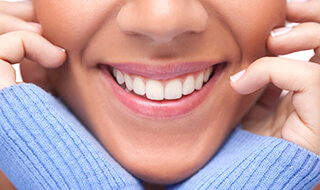 Over the counter teeth whitening products may promise dramatic results, but the truth is they are typically unable to deliver what they claim. Our in-office and take-home teeth whitening solutions offer patients smiles up to ten shade brighter. We use the KoR and Nite White whitening systems in our dental office.
KoR whitening is a deep bleaching system with both in-office and take-home components. We start with a pre-treatment that takes two weeks of daily application. Then, the patient returns to our dental office for deep bleaching. People who are looking to touch up deep bleaching or who do not need the advanced level of whitening possible with KoR, may want to consider whitening with the milder Nite White system.
Cosmetic Dentistry Frequently Asked Questions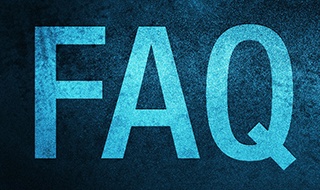 If you're interested in cosmetic dentistry to improve your smile, you have more options than ever to get the results you want, such as with veneers in Marlton. Although you're excited to have the picture-perfect smile you've always wanted, it's normal to have a few concerns before you're ready to commit to a treatment. Here are the answers to a few of the most common questions our patients ask us to calm your nerves.
Which cosmetic procedure is right for me?
Our dental office doesn't use "cookie-cutter" plans because every patient is unique. There isn't any way to determine which procedure is right for you without first assessing your smile and learning more about your goals. Based on your specific needs, your cosmetic dentist in Marlton may recommend one or more treatments, such as:
Porcelain veneers
Metal-free dental restorations
Direct cosmetic dental bonding
Teeth whitening
Am I a candidate for cosmetic dentistry?
Almost everyone who has good oral and general health is a candidate for cosmetic dentistry; however, we'll still need to perform a consultation. During your visit, we'll learn more about your oral and medical history and lifestyle habits. We'll also examine your teeth and gums to ensure they are healthy. The foundation to a beautiful smile relies on a healthy mouth. As a result, you may need additional procedures if you have any untreated dental issues, like cavities or gum disease. Although it may add more steps to your treatment plan, a healthy smile is crucial to ensuring your procedure is successful.
How much does cosmetic dentistry cost?
You've likely heard cosmetic dentistry is expensive; however, the diversity of treatments available makes it affordable for people from all walks of life. Since every treatment plan differs, there isn't a set fee for cosmetic services. Various factors influence the amount you'll pay, like the complexity of the improvements you want to make. We'll provide you with an estimate at your consultation and discuss the fees, so you'll know exactly what you'll need to pay before committing to any treatment. Our dental office provides several payment options to keep your dream smile within your budget, like third-party financing. Based on your credit approval, you are given the funds for your procedure, which you'll repay using a plan that accommodates your budget.
Can I use my dental insurance to pay for cosmetic dentistry?
Generally, cosmetic treatments are considered elective, so it's rare for dental insurance to pay for them, but there are some exceptions. Many cosmetic treatments also provide restorative benefits, like metal-free restorations and dental bonding. If we determine a procedure is necessary for your dental health, you may be able to use your coverage to offset the amount you need to pay. We know dental insurance can be confusing, but you won't have to navigate your policy alone. If applicable, we'll work on your behalf with your dental insurance company to file the necessary claim forms, so you have one less thing to worry about. We'll help you maximize your annual benefits to lower the amount you pay out-of-pocket.