Your Cosmetic Dentist Serving Marlton & Voorhees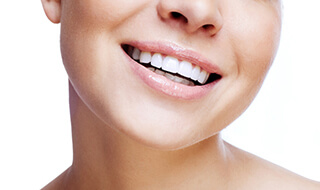 If you're dealing with chipped, stained, broken, or otherwise damaged teeth, cosmetic dentistry services from the South Jersey Center for Dental Medicine can help you transform even the most significant damage into a beautiful and natural-looking smile. Dr. Joseph Sandberg is your cosmetic dentist with years of experience providing a wide array of cosmetic dentistry services to brighten, straighten, and perfect your smile. Call our team to find out more, or to schedule a consultation with our cosmetic dentist. Our Marlton, NJ practice welcomes patients from Cherry Hill and Voorhees.
Porcelain Veneers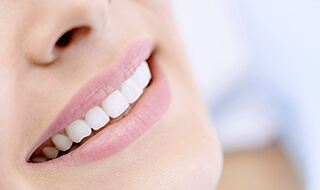 Veneers are thin sheaths of dental grade porcelain that are bonded to the fronts of teeth to conceal smile flaws. Chips, cracks, gaps, or stains can all be covered by veneers. The process is simple, and we complete the placement over the course of two short appointments. During the initial visit, we remove a small amount of surface enamel. Then, we capture bite impressions that are used by the lab to craft the veneers. Finally, we place temporary veneers to protect the prepared teeth. Once we receive the final restorations, patients return to our office to exchange the temporaries for the permanent, dazzling solution.
Metal-Free Dental Restorations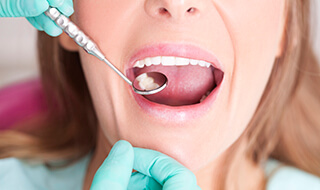 When it comes to repairing damaged teeth, the most cosmetic restorative materials are those that are completely metal free. Every material we offer has its own unique benefits. Gold crowns are the most durable and least likely to wear against opposing teeth, but they are the most noticeable. Porcelain bonded to metal crowns have improved appearance, but the porcelain layer wears away revealing the darker metal over time. Both of these solutions are less than ideal for those patients who suffer from metal sensitivities or allergies.
Fortunately, we offer two cosmetically superior, metal-free restoration solutions: Bruxzir and E-Max. Bruxzir is a zirconia crown. This material allows us to closely match the natural appearance of your teeth. It's a durable solution that also reduces wear to the surrounding teeth. The most cosmetic solution, however, is the all-ceramic, e.Max (dilithium silicate). Even after years of use, these high quality crowns continue to blend seamlessly into the natural smile line. Both materials can be used to repair damaged teeth or to conceal purely cosmetic flaws.
Direct Cosmetic Dental Bonding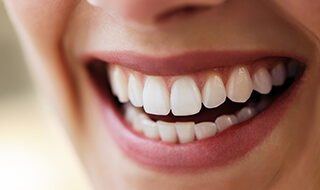 If you have a minimal number of chips, cracks, stains, or gaps, we may be able to perfect your smile in a single appointment with direct bonding. A faster, more affordable alternative to porcelain veneers, direct bonding allows us to cover stains, fill in gaps between teeth, and repair small cracks or chips. The entire process typically takes less than an hour, and can be a very cost effective solution to your cosmetic concerns.
In-Office & At-Home Teeth Whitening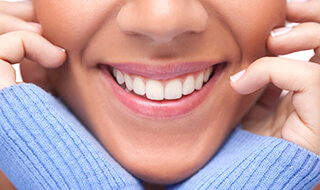 Over the counter teeth whitening products may promise dramatic results, but the truth is they are typically unable to deliver what they claim. Our in-office and take-home teeth whitening solutions offer patients smiles up to ten shade brighter. We use the KoR and Nite White whitening systems in our practice.
KoR whitening is a deep bleaching system with both in-office and take-home components. We start with a pre-treatment that takes two weeks of daily application. Then, the patient returns to our office for deep bleaching. People who are looking to touch up deep bleaching or who do not need the advanced level of whitening possible with KoR, may want to consider whitening with the milder Nite White system.