Emergency Dentist for Marlton & Voorhees
Providing Root Canals & Other Urgent Dental Care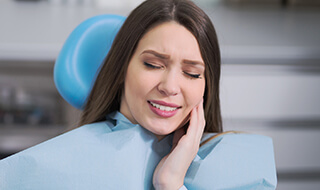 When dental emergencies occur, the last thing you want is to feel like you have no one to turn to. Many dental offices don't prioritize dental emergencies, but the South Jersey Center for Dental Medicine team is here whenever our patients need us — and that includes when you're experiencing a dental emergency.
Joseph A. Sandberg, DMD, MAGD or one of his knowledgeable team members is always available to answer your call. Whenever possible, we'll schedule an appointment on the same day you phone our office. If we're unable to provide treatment on the day you call, we'll walk you through at-home care over the phone or direct you to contact your local emergency room. If you're unsure your situation requires urgent dental care, we encourage you to contact our team anyway. The sooner we get started correcting your smile concerns, the more likely we'll be able to offer a conservative, minimally-invasive treatment plan.
Root Canal Therapy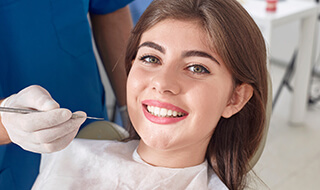 If you experience a severe toothache, lingering sensitivity to temperature changes, or notice your tooth has become discolored, you may be in need of root canal therapy. This procedure is necessary when damage or decay accesses the innermost layers of teeth, or the part known as the "pulp," where the nerve system of the tooth is housed.
Root canals used to have a reputation for being painful, but new techniques and instrumentation make root canal faster with little to no discomfort. These procedures actually relieve the painful toothache caused by damage or decay directly affecting the nerves. To perform a root canal, Dr. Sandberg begins by removing the damaged tissue, pulp, and nerve. Then, we refill and seal the damaged tooth. In most cases, we also need to place a dental crown to restore strength and protect the tooth from further damage. We may also recommend a course of antibiotics to prevent further infection, if theroot canal is needed because of infection or decay.
Frequently Asked Questions – Emergency Dentistry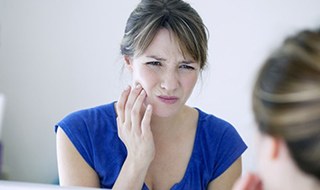 Do you still have questions about what you should do if an urgent dental problem strikes? Dr. Sandberg, your knowledgeable and experienced emergency dentist, can see you as soon as possible in this situation so you don't have to spend much time worrying. For your convenience, we've answered some of the questions that our patients ask us the most often about emergency dental services below.
Should I Wait to See If My Toothache Will Go Away on Its Own?
In some cases, toothaches are caused by a minor issue, like a piece of food getting trapped between your teeth. Sometimes, though, tooth pain can be the result of a serious infection. If you've flossed in the area and your pain persists, contact us right away, because an infection could be to blame.
When a cavity is left untreated for long enough, dangerous bacteria can infiltrate the center of the tooth, known as the pulp. This sensitive collections of nerves and tissues can then become infected, causing a severe toothache that can keep you from eating, sleeping, and being able to focus. Without proper treatment, the infection could even spread to other teeth and oral structures, resulting in lasting damage.
How Can I Reduce Swelling?
Facial or oral swelling is a common phenomenon for people who sustain a dental infection or physical trauma. To bring it down, hold a cold compress to the area for 10 minutes on, then 10 minutes off. Repeat this process for up to an hour. If there's a chance your swelling is caused by an infection, do not apply heat to it, because that could make it spread more rapidly.
Should I Visit the ER or an Emergency Dentist?
In the panicked moment in which a dental emergency arises, it can be tough to decide whether to contact your dentist or an emergency room. Our office is well-equipped to handle most serious dental situations. Only visit the ER if you have any of the following:
Trouble breathing or swallowing
Deep facial cuts
Profuse bleeding
A dislocated or broken jawbone
If you're not sure where to go, don't hesitate to call our office first and ask. If you do need to go to the ER, schedule an appointment with us afterward so we can determine whether further treatment is required to restore your smile.
Will My Tooth Have to Be Removed?
It may be tempting to ask us to simply take out a tooth that's giving you trouble. However, we generally only extract a tooth as a last resort. Even one missing tooth can contribute to serious oral health problems, like jawbone deterioration and an increased risk of gum disease and further tooth loss down the road. Not to mention, replacing a missing tooth can be costly. We'll try our best to save your tooth, but if extracting it is what's best for your oral health, we'll make the process as smooth and stress-free as possible.