Veneers – Marlton, NJ 
Cover Up Chipped, Broken, Or Misshapen Teeth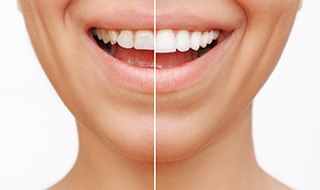 Cosmetic dentistry offers plenty of ways to improve select aspects of your teeth, but if you want to completely change the way your smile looks for the better, veneers are hard to beat. Veneers can cover up chipped, broken, or misshapen teeth, completely erasing any number of aesthetic issues that you have.
If you're interested in veneers, the team here at the South Jersey Center For Dental Medicine would be happy to talk to you about it at a consultation. Give us a call today and we'll schedule you an appointment.
Why Choose South Jersey Dental Center For Veneers? 
Beautiful Cosmetics Made Of High-Quality Materials
Several Financing Services To Make Care Affordable
Dedicated Dental Team Who Will Attend To Your Needs
What Are Dental Veneers?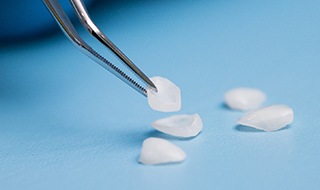 Veneers are thin shards of porcelain used to conceal the natural color, shape, size, and alignment of your teeth. We do this by removing a small sliver of your enamel and using sophisticated etching technology to adhere the porcelain into place.
It sounds simple in concept, but the results that they're able to produce can't be understated. If you are looking for durable, stain-resistant, and absolutely beautiful cosmetics they're difficult to beat.
The Process of Getting Veneers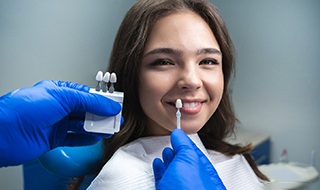 The first step toward getting veneers is the preliminary exam and consultation, in which we'll talk about your smile goals and whether there are any outstanding oral health problems that need to be taken care of before applying veneers. If any fillings, gum disease therapy, or other restorative procedure is necessary, we'll get those done as quickly as possible.
We'll prepare the teeth by removing a tiny sliver of enamel and then take impressions of your smile. These impressions, along with any notes from the initial consultation, will be sent to a dental lab to assist in crafting your veneers.
While that's happening, we'll give you a set of temporaries that can protect your teeth in the meantime. Once they're completed after a few weeks, we'll call you back in and secure the cosmetics in place.
Benefits of Veneers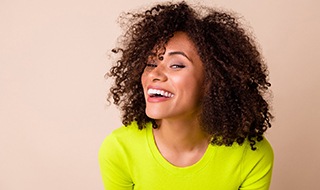 It's hard to understate the quality of veneers, or what they can do for your smile. They offer incredible versatility in that they're capable of dealing with many different kinds of problems. They're also durable, with many of them easily lasting for over 15 years if you maintain them well. An element of this is that they're stain resistant, meaning that you have to worry much less about veneers becoming discolored due to food or drink stains.
If you're someone who has always been insecure about your smile, veneers can give you the confidence that you've always wanted!