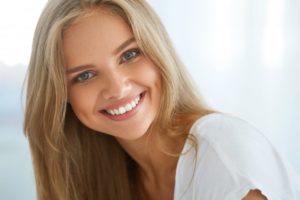 It's 2019! The beginning of a new year is the perfect time to start something special, something that will change your life. Have you thought about improving the look of your smile? Studies have shown that people with attractive smiles are perceived as being friendlier and more successful. Maybe you want to try for a better job. Maybe you want to meet someone new. Maybe you just want to feel more confident. Whatever your dreams are, your smile can help you get there. Here are three ways you can improve your smile and your self-esteem this year with your cosmetic dentist in Marlton.
Teeth Straightening with Invisalign
Straight teeth look great, but did you know that straight teeth can also help improve your oral health? It's true. Brushing and flossing crooked or misaligned teeth can be difficult and can leave more plaque in the nooks and crannies of your mouth. Straight teeth provide the optimal situation for good oral health.
But do you really want to get metal braces? The point of cosmetic dental changes is to boost your self-esteem, not make it worse. Well, there's another option: Invisalign. Not only does Invisalign straighten teeth faster than traditional braces, but the clear aligners are discreet and barely noticeable when worn. Unlike with traditional braces, you can enjoy all your favorite foods and activities while on Invisalign treatment without restrictions. For many patients, this advanced straightening option costs about the same as traditional braces and doesn't require as many adjustment appointments with your dentist.
Teeth Whitening
As we age and because of exposure to darkly pigmented foods and drinks, our teeth can become yellow or dull. When the white, protective layer of enamel wears down, the yellow dentin layer of the tooth becomes more exposed. Over-the-counter whitening solutions promise but fail to deliver whitening results. Professional whitening solutions offered through your dentist can brighten your smile by up to 8 shades!
There are two types of professional whitening: in-office treatment or take-home kits. Both use the same technique, hydrogen or carbamide peroxide, to safely and effective bleach your teeth. In-office whitening uses a higher concentration and after 60–90 minutes achieves dramatic results in one visit. Take-home kits, on the other hand, are used for about 30 minutes every night for two weeks to get the same level of whitening. With either treatment, you can smile brighter!
Porcelain Veneers
Porcelain veneers are a cosmetic option that covers so many different flaws, including:
Discolored teeth.
Small gaps between teeth.
Chipped teeth.
Misshaped teeth.
Thin sheets of ceramic, porcelain veneers are adhered to the front surfaces of your teeth. Because of their material, they reflect light just like natural teeth and look great! If you have imperfections that you want to cover up in your smile, then veneers may be a good option for you.
It's not just about improving the way your teeth look, although cosmetic treatment certainly does that. These changes are about giving you confidence so to show your smile and chase after the rest of your dreams. Make 2019 the year you changed your life for the better. For more information about these and other cosmetic dentistry improvements, contact your dentist in Marlton.
About the Author
Dr. Joseph Sandberg has been practicing dentistry for more than 30 years in the same location. At South Jersey Center for Dental Medicine, he and his staff offer personalized care and attention and can address practically every dental need including cosmetic dentistry. They offer both in-office and take-home whitening solutions, Invisalign, and porcelain veneers. You can contact them by calling (856) 988-7773 or clicking here.