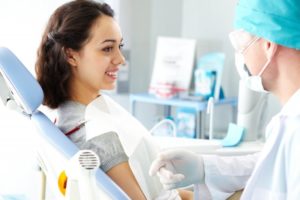 When you're sitting down planning your week, you realize you haven't had a checkup with your dentist in a long time. It turns out, this can have detrimental effects on your oral health. Without being checked on by your dentist regularly, you can't take proper preventive measures to avoid and be alerted if you have gum disease, tooth decay, and other serious infections. Be sure to see your dentist before serious problems arise! 
Gum Disease
Over 85% of the population in the United States is affected by gum disease, and most of those cases aren't diagnosed by dentists due to poor oral routines and not keeping up with semi-annual checkups. Gum disease is an infection that causes inflammation and can result in serious consequences like tooth decay and even tooth loss. While this isn't possible to cure, your dentist can effectively treat and destroy the harmful bacteria in your mouth to prevent further damage to your health. To avoid this, regular dental checkups are an absolute necessity.
Recommendations for Oral Care
Everybody's teeth are different, so there may be some special measures you should take to help keep your smile healthy and shining. Your dentist can recommend oral hygiene products such as electric toothbrushes, whitening, fluoride, or natural toothpastes, and antibacterial mouth rinses. Getting help choosing the products that are best for you can take your smile from drab to fabulous in short periods of time.
Plaque, Tartar, and Cavities
Plaque and tartar tend to build up over time, especially if your dental routine isn't up to par. When left unchecked, this can result in gum disease and infections. During each of your visits, your dentist will use special tools to thoroughly clean and scrub all harmful bacteria, plaque, and tartar from your teeth to prevent cavities and protect your enamel. This can save you a massive amount of time and money in the long run.
Head, Neck, and Jaw Health
Your dentist doesn't only treat your gums, mouth, and teeth. They also check parts of your body like your head, neck, jaw, and lymph nodes. If any abnormalities are found in these parts, it could mean serious health problems and your dentist will be able to send you to be treated by a medical professional. If you experience things like jaw pain, your dentist may even be able to find a solution for your relief. Your lymph nodes are important, and when unhealthy, symptoms are unnoticeable. If checked by your dentist, you can detect issues like certain cancers and oral diseases before they progress.
Alerting You About Bad Dental Habits
Sometimes, you have habits that you don't know are bad for you, like crunching ice or grinding and clenching your teeth at night. Some of these can have serious effects on your oral health and have a lasting impact on your jaw bone and the way you are able to chew or speak. When you go for your regular checkups, your dentist can inspect for any kind of damage caused by these habits and alert you to them. This can prevent serious consequences and allow you to change destructive oral habits.
The Importance of Regular Checkups
Next time you think about putting off your dental checkup, remember all the problems that you can't see or feel, but your dentist can detect. This could save you time and money in the long run and ensure that your smile will stay healthy. Oral problems can progress rapidly, so it's important to not wait and keep up with preventive measures. Schedule your semi-annual checkup today and talk to your dentist about ways you can maintain your health!
About the Author
Dr. Joseph Sandberg has been serving the South Jersey community of Marlton for over 30 years, providing them with trustworthy and reliable care. He is committed to pursuing continuing education so he can give the most up-to-date quality treatment. He has earned multiple awards for the individualized care he provides his patients. For any questions or to schedule an appointment, visit his website or contact him at 856-872-2622.