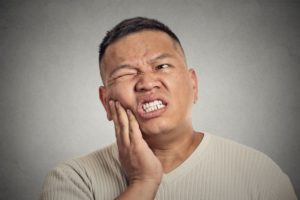 Do you know what counts as a dental emergency? It can sometimes be difficult to tell if a scary situation involving your teeth, gums, or mouth requires urgent care or not. However, knowing what to do in a dental emergency can make all the difference in protecting your healthy, intact smile. Here are the most common dental emergencies and how to handle them after calling your Marlton dentist.
Chipped, Cracked, or Fractured Tooth
A broken tooth can be a very sudden and alarming situation. Gather up any pieces of your tooth you can find and gently rinse out your mouth with warm saltwater. To minimize any discomfort, you can take an over-the-counter pain reliever and use a cold compress to reduce swelling. You can also use dental wax or a piece of sugarless gum to cover up any jagged edges of your tooth that could irritate your tongue or cheeks until you can reach your dental appointment.
Severe Toothache
The most common cause of tooth pain is tooth decay (cavities), but it can also be a result of a variety of issues, including teeth grinding, bad brushing habits, and gum disease. While these situations aren't emergencies, a severe, long-lasting toothache that gets worse over time could indicate an abscessed tooth. This serious infection could potentially spread throughout your body, so seek emergency care if your toothache is accompanied by:
Teeth with a lingering sensitivity to hot and cold temperatures.
Spontaneous pain or pain while chewing.
Fever, swelling, or a pimple-like bump.
Knocked-Out Tooth
A knocked-out tooth's chances for successful reattachment diminish drastically after 30-60 minutes, so time is of the essence in this situation. Pick up the tooth via the crown, being very careful to avoid touching the roots, and gently rinse it off. Don't scrub away any remaining tissues. The ideal place to store it until your dental appointment is back in its socket. However, it can also be kept between your gums and your cheek or in a clean container of milk.
Other Emergency Situations
Other scary situations for your smile that require the attention of your emergency dentist include:
Having something wedged between your teeth.
Excessive bleeding in the mouth.
A lost or broken dental crown or filling.
Dental trauma from a fall, accident, or injury.
Swelling in the face or jaw.
If you're uncertain your situation requires urgent care, contact your dentist right away anyway. They can help you determine your next steps and walk you through any necessary first-aid or at-home care over the phone.
About the Author
If you're experiencing a dental emergency, don't hesitate to contact South Jersey Center for Dental Medicine. Dr. Joseph Sandberg has been caring for the smiles of South Jersey from his Marlton location for over 30 years now. He and his talented team do everything they can to provide same-day emergency appointments so you can get back to enjoying your smile right away. With the newest dental technology and the most advanced techniques, they strive to make every appointment as comfortable and relaxing as possible. If you have questions about dental emergencies, feel free to contact him via his website or at (856) 596-4333.