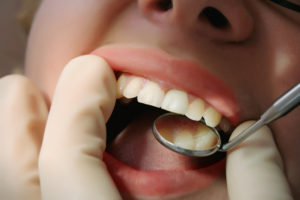 Did you know that your biannual dental checkups with your Marlton dentist are about more than just keeping your pearly whites clean? In fact, the main point of these routine visits is to spot and stop a wide variety of oral health issues as early as possible, including oral cancer. This dangerous condition effects more than 50,000 Americans every year, and it can be life-threatening if not caught and treated early enough. Here's what you need to know about this oral health concern and how regular dental checkups can help keep you and your smile healthy.
Understanding Oral Cancer
Like other forms of cancer, oral cancer manifests as an uncontrollable growth of cells that spreads and damages the surrounding tissues. This can occur anywhere in the mouth, including the tongue, lips, gums, cheeks, or throat. While anyone can develop this condition, factors like tobacco use, heavy alcohol use, and excessive sun exposure to the lips can increase your risk. It's estimated that oral cancer causes about 10,000 deaths every year, but it can be successfully treated and cured if caught early enough.
Early Detection & Dental Checkups
Oral cancer screenings are a quick, non-invasive procedure that are typically incorporated into your regular dental checkups. Your dentist has the specialized training and tools needed to closely investigate areas of your mouth that you may have trouble seeing. They'll use a medical light to look for any abnormalities or discolorations inside your mouth and inspect your face, neck, and jaw for lumps or swelling.
Like tooth decay, gum disease, and many other dental health issues, oral cancer can easily develop an progress without you seeing or feeling it. Regularly visiting your dentist is the best way to detect all these problems even when your smile looks and feels fine. Thankfully, the sooner oral cancer is caught, the more likely successful treatment is.
Warning Symptoms of Oral Cancer
Between your biannual visits to your dentist, be on the lookout for warning symptoms of oral cancer, like:
Irregular patches of discoloration.
Strange crusts, rough areas, or swelling.
Oral cuts that won't heal or unexplained bleeding.
Chronically sore throat.
Difficulty chewing or swallowing.
Remember, dental checkups are about more than keeping your smile sparkling! Regular dental appointments and oral cancer screenings are an important part of keeping your whole mouth happy and healthy!
About the Author
At South Jersey Center for Dental Medicine, we care about your overall wellbeing as much as the health of your smile. That's why Dr. Joseph Sandberg provides oral cancer screenings during every thorough dental checkup and cleaning. For over 30 years he has helped keep the smiles of Marlton, NJ and the surrounding communities healthy with award-winning dentistry and a variety of advanced treatments. If you have any more questions or concerns about oral cancer, don't hesitate to contact him via his website or at (856) 596-4333.