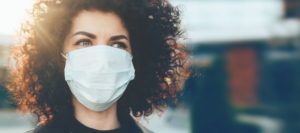 COVID-19 is a contagious illness that can infect anyone. However, it can cause severe, life-threatening complications for some people. The Centers for Disease Control and Prevention report that factors like older age, weakened immune system, and underlying health conditions can put you at a higher risk of getting seriously ill from COVID-19. If you or a loved one are considered at-risk, it's essential that you take every precaution to stay healthy. Read on as your Marlton, NJ dentist answers five common questions about how to stay safe during the coronavirus pandemic.
1.) How Do I Protect Myself & My Family From COVID-19?
Even though COVID-19 is easily transmittable, there are several simple yet effective measures you can take to stop the spread of germs. The top three most effective ways to keep yourself and others healthy are:
Staying at home as much as possible to limit your exposure to others.
Practicing social distancing while out in public or crowded areas.
Regularly and thoroughly washing your hands throughout the day.
2.) What's the Safest Way to Get Groceries?
Whenever possible, you should avoid going into a store to get groceries. Utilize options like delivery and curbside pickup to keep your distance from others. If you choose to shop in person, look for a store that offers shopping hours for at-risk customers exclusively.
3.) What Precautions Should I Take When Ordering Food?
Similar to groceries, it's best to keep as much distance as you can when ordering takeout. You can safely order your food with contactless delivery, drive thru service, or curbside pickup options. If a restaurant requires you to come inside to pick up your meal, spend as little time as possible inside and avoid touching high traffic fixtures like door handles or front counters.
4.) How Can I Stay Healthy While Getting My Prescription Medication?
To protect their customers and themselves, many pharmacies are encouraging the use of curbside pickup or drive-thrus where available. You can also choose to order your medication from a mail-service pharmacy. Simply call your physician and request that your prescription be sent to a pharmacy that offers one of these options to stay safe while getting your medication.
5.) Should I Still Go to My Doctor or Dentist Appointment?
If you have an upcoming appointment with your doctor or dentist, you should call them and ask if your visit should be rescheduled. In some cases, your healthcare provider may deem it safer for you to come in at a later date. However, other appointments are necessary for your ongoing health. If you need to visit them in person, listen to their instructions for extra precautions carefully and rest assured that they are going above and beyond to keep their practice safe.
In short, the best way to keep yourself, your family, and your community safe from COVID-19 is to reduce your exposure to others as much as possible. Keep these precautions in mind to stay healthy during your daily life in the coronavirus pandemic.
About the Practice
At South Jersey Center for Dental Medicine, nothing is more important than your wellbeing. We have been carefully monitoring the COVID-19 pandemic and have adjusted our infection control protocols accordingly. To keep our patients and staff as safe as possible, we have established 22 additional precautions to our already ambitious standards of sanitation. If you are an at-risk patient in need of dental care, please let us know. If you'd like to learn more about our Commitment to Safety, we can be reached via our website or at (856) 596-4333.