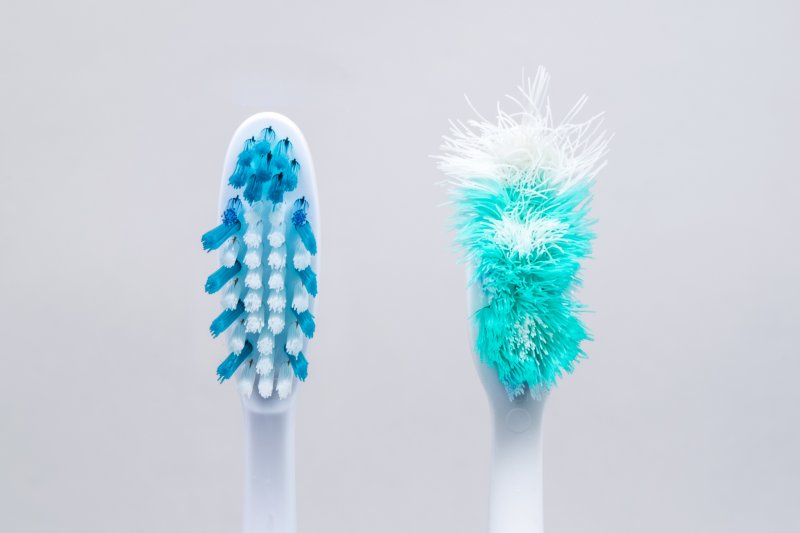 Have you ever noticed that your once colorful toothbrush is now discolored? Or that the bristles have become frayed and tattered? If you answered "yes" to either of these questions, then you are not alone. In fact, the average American only replaces their toothbrush once per year, which is far too little and can lead to a multitude of dental issues. Fortunately, you can read on for how often it should be replaced, the dangers of not doing so, and tips for helping you remember!
So, When Should You Replace Your Toothbrush or Brush Head?
Your toothbrush plays an instrumental role in keeping your teeth and gums healthy, but only if it is in pristine condition. If the bristles become frayed, they become ineffective at removing plaque, food particles, and debris from your teeth, which leaves you vulnerable to a number of dental concerns. Therefore, the American Dental Association recommends replacing your toothbrush every three to four months. However, you should replace it sooner if the bristles are tattered or if you were recently sick.
The Dangers of Not Replacing Your Toothbrush Regularly
Initially, forgoing replacing your toothbrush seems trivial in the grand scheme of things. However, it is important to remember that your bristles can become home to bacteria that are constantly exposed to your teeth and gums over the course of its use. Over time, this can leave your mouth vulnerable to tooth decay, gum disease, and infection. Just like you wouldn't wash your dishes with a dirty sponge, it is important not to brush your teeth with an old toothbrush!
3 Tips for Helping You Remember to Replace It
Amid the hustle and bustle of everyday life, crossing your fingers and hoping you'll remember is a recipe for disaster. Fortunately, you can use the below tips to remind you when you need to replace your toothbrush:
Schedule a new brush head to be sent to you every three months.
Set a reminder on your phone.
Put a sticker on your mirror with the next date.
To ensure your oral health stays in pristine condition, it is important to view replacing your toothbrush as a crucial part of your dental care routine. That way, you can scrub away knowing your teeth and gums are in tip-top shape!
About the Author
Dr. Joseph Sandberg's career in dentistry began after he graduated second in his class from the University of Pennsylvania School of Dental Medicine in 1984! Over the past three decades, he has earned several awards, undergone numerous hours of continuing education, and earned his Mastership in the Academy of General Dentistry while providing world-class care to his patients. If you would like to speak with Dr. Sandberg about improving your oral health or scheduling your bi-yearly appointment, visit his website or give him a call at 856-596-4333.