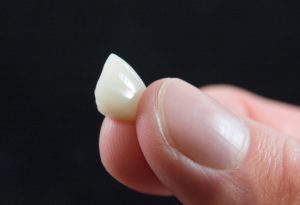 A dental crown is a popular option in restorative and cosmetic dentistry because it's a versatile solution to reinstate the health, function, and appearance of a tooth. Modern crowns are made of all-ceramic material, which allows them to look natural without compromising their durability. The average lifespan is about 10 years, but they are known to last for decades with the right aftercare. Even with the best preventive efforts, there will come a time when you will need dental crown replacement. Here are the most common signs you need a new restoration.
1. Gum Recession
Harmful bacteria can get trapped between the gum tissue and the crown. It can colonize without proper oral hygiene habits, which increases the risk of an infection called gum disease. If it's not treated quickly, it can destroy the tooth and its supporting structures.
During the early stages of the infection, the gingival tissue near the crown can appear red or swollen. It might even bleed when you brush or floss your teeth. Over time, the gum line can recede. Not only can this signal that your crown is failing, but also that your oral health has been compromised.
You can help lessen your risk of gum disease and protect the longevity of your crown by brushing twice daily and flossing every night. Adding an antibacterial mouthrinse can help kill bacteria missed by your toothbrush and floss.
2. Pain or Swelling
Any pain, swelling, or inflammation near the crowned tooth is a red flag, and it's best to visit your dentist right away. In some cases, it can indicate a minor issue that's easy to resolve, like the position of the crown. Other times, the cause can be more severe, like decay or infection.
If you develop any discomfort, do not wait to contact your dentist. It's best to avoid chewing with the tooth until after the problem has been corrected.
3. Visual Damage
Although crowns are made of durable material, they aren't indestructible. It can be damaged by various factors, like daily wear and tear. If you notice any chips, cracks, or other concerns, it's time to see your dentist. If your restoration is older than 10 years, its structure is more likely to be compromised. They will check it at every routine appointment to ensure it is functioning as intended.
4. Unattractive Appearance
Modern crowns are made from all-ceramic material to blend in with your natural teeth. If your restoration is more than a few years old, it might not look like a real tooth. In fact, it might even be made of metal. If you're dissatisfied with its appearance, your dentist can replace it to give you a beautiful smile.
If you have any signs of a failing crown, don't wait until it turns into a dental emergency. Contact your dentist right away to have it replaced.
About Dr. Joseph Sandberg
Dr. Sandberg has provided exceptional care for the past 30 years. He earned his dental degree from the University of Pennsylvania School of Dental Medicine. He specializes in general dentistry to rehabilitate compromised or missing teeth. If you need a crown, contact our office today to schedule an appointment.