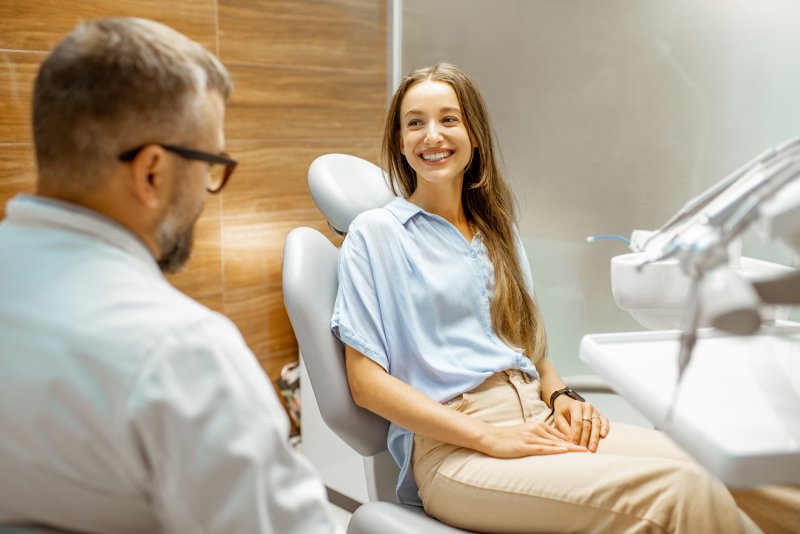 Is smiling confidently a struggle due to severe discoloration or stubborn stains? Do you wish your teeth were perfectly straight instead of crooked or gapped? Would undergoing a complete smile makeover give you the confidence you've always wanted? Then it is time to schedule a cosmetic dental consultation. This appointment gives you a valuable opportunity to speak directly with a skilled, experienced professional about the service you are interested in. To ensure your visit is as informative and successful as possible, here are four questions to ask!
#1. Am I A Good Candidate For This Treatment?
Whether you are considering a small smile enhancement or a complete smile makeover, it is important to confirm that you are in fact a candidate for the treatment you are considering. Based on your unique dental needs, the state of your teeth and gums currently, and what your dream smile looks like, your cosmetic dentist can provide you with a straightforward answer. If an untreated health concern, like gum disease, stands in your way, then they can work the appropriate restorative service into your treatment plan or suggest an alternative that better suits you.
#2. What Are The Benefits and Risks Involved?
Thanks to advancements in dentistry and technology, cosmetic dental treatments are safer than ever before. With that being said, there are both benefits and risks involved in each treatment. Learning this information upfront can not only help you determine which service is best for you, but it can also prevent surprises along the way. Simply put, learning all about the pros and cons can help you have the seamless, stress-free, successful experience you deserve.
#3. Can I See Before and After Pictures of Previous Patients?
One of the biggest reasons patients hesitate to commit to treatment is because they are unsure what the final results will look like. Fortunately, that's where before and after pictures come in! These photographs give you insight into the doctor's skill and what your smile may look like at the end of your treatment. Just make sure to look at the photos of patients who have similar cosmetic flaws and smile goals as you.
#4. What Is the Estimated Cost of This Treatment?
Many patients are hesitant to ask about the price, but it is important to talk about the financial component of your care at your consultation. Even if the upfront cost is higher than you expected, don't get discouraged. Many cosmetic dentists have options in place to help you get the smile you want at a price you can afford, like in-house membership plans and flexible financing.
Your cosmetic dental consultation is an important step on your journey to your new and improved smile. To ensure you make the most of your visit, make sure to bring up the above questions!
About the Author
Dr. Joseph Sandberg entered the field of dentistry in 1984 after graduating second in his class at the University of Pennsylvania School of Dental Medicine. Since then, he has earned his Mastership in the Academy of General Dentistry, completed countless hours of continuing education, and, of course, helped his patients achieve the beautiful, healthy smile they deserve. If you are interested in leaving imperfections in your smile in the past or would like to schedule your cosmetic dental consultation, don't hesitate to visit his website or give him a call at 856-596-4333.