Exceptional Marlton Dentistry for Your Family
Picking a new dentist in Marlton can be overwhelming. It's hard to know where to even begin your search. Many patients simply choose the closest practice to their home or office, but research indicates that patients are unlikely to maintain dental care appointments if they're not happy with their dentist. Don't get overwhelmed with the choices. Instead, explore this page to learn more about finding the right dentist in Marlton. The South Jersey Center for Dental Medicine wants every patient to get the dental care they need in a dentistry practice where they feel comfortable. We hope our office is one of the practices you consider, and our friendly team is available to answer any of your questions. Please don't hesitate to call our Marlton dental practice. We'd be happy to help.
Make a List of Potential Dental Practices
The first step to finding the right practice for you is knowing what your options are. You can research online to find a dentist near you, ask your past dentist for a referral, or check in with friends, family members, and coworkers for recommendations. Many dental offices also have reviews online from their current patients, and these will often give you a good idea of what it's like to visit the office. At the South Jersey Center for Dental Medicine, we're so proud of the positive feedback we receive from patients that we link to our patient reviews directly from our website. We encourage you to read some of the touching stories our patients have generously shared to let our team and future patients know why they trust our Marlton dentist and team with their smiles.
Tour the Office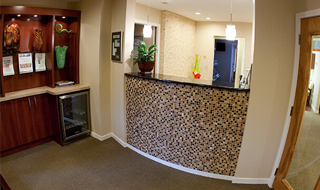 Many dental offices sound good on paper, but when you visit the practice, you find it's messy or poorly lighted or the patient treatment area is uncomfortable. Before selecting an office as your dental care home, ask to take a tour. Many practices, including ours, now offer online office tours. This is a great way to start getting to know the office. However, we welcome patients to visit us in the office for a tour or stop by just to say hi and get a feel for the office.
Learn More about the Dentist & Team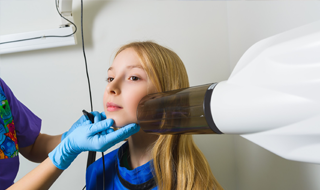 Always start with the basics – what training and experience does the dentist and dental team have that qualifies them to offer excellent dental care. Then, we encourage you to try to dig a little deeper. In can be difficult to know whether or not you'll "click" with a specific dentist or team just by reading online bios or calling the office to find out some basic information. However, you can get an idea of the kind of office environment and treatment you can expect from learning how long the dental office has served the community, how the team members sound when they answer the phone, and other small details that can often be overlooked.
For more than three decades, Dr. Joseph Sandberg has offered outstanding dental care for South Jersey residents in the same Marlton location. We are fixtures in the community, and our roots run deep. Dr. Sandberg has had the opportunity to provide dental treatment for generations of families in the area. In addition to earning his doctoral degree (graduating second in his class) in dentistry, Dr. Sandberg is a dedicated lifelong learner. He has completed numerous advanced education courses, including a hands-on training residency in dental implant placement and restoration. In addition to Dr. Sandberg, our dental team brings decades of dentistry experience to the office. They provide outstanding dental services that keep patients smiling and looking forward to visiting us year after year.
Explore Dental Services
The majority of general dental practices will offer a variety of preventive, restorative, and cosmetic dentistry services. In large, corporate offices, you may be able to receive all of your dental care but feel like just a number and never get to know the dentists or team members. In small, intimate practices, you may love the dentist and team but find yourself spending a great deal of time visiting specialists. At the South Jersey Center for Dental Medicine, we offer a happy medium between the two. Our dentist provides a wide range of dental services using the latest techniques and technologies, but we are a small enough practice that we can take the time to get to know each patient and establish lifelong relationships with them.
Ask to See Real Patient Results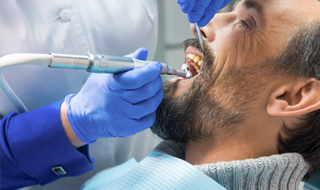 Have you ever listened to a server at a restaurant describe a meal and thought it sounded great only to be disappointed when the food arrived because it wasn't what you were picturing? That's never a great experience but imagine if that happened at the dentist. As dental professionals, we do our best to help patients understand the possible results of dental services because we want them to be completely confident before beginning any treatment plan. However, as the old sayings go, sometimes a picture is worth a thousand words and seeing is believing. If you need a complex treatment like tooth replacement or cosmetic services, ask to see pictures of past success stories before you move forward. These images will give you a clearer understanding of how the treatments work and what you can expect from your results. We display some of the smile transformations we're proudest of in our online smile gallery, but we would be happy to talk to you in more detail and show you additional photos during a consultation appointment.
Discuss Dental Insurance & Financing
If you invest in dental insurance, it's important that you receive the maximum benefits for your investment. Talk to the dentist about insurance coverage to ensure your benefit plan is accepted. If you're planning for a major treatment in the near future like orthodontic work or dental implant supported tooth replacement, you may also want to discuss financing policies to ensure your necessary dentistry services will fit your budget. At the South Jersey Center for Dental Medicine, we are happy to process and file dental insurance claims for many of the most popular insurance plans in the area. We also work with CareCredit and Wells Fargo Health Advantage to offer low and no interest financing for more advanced procedures. If you don't currently have dental insurance, our team would be happy to help you. We offer an in-office Oral Health Savings Plan that covers the cost of preventive care and provides deep discounts for all other treatments.